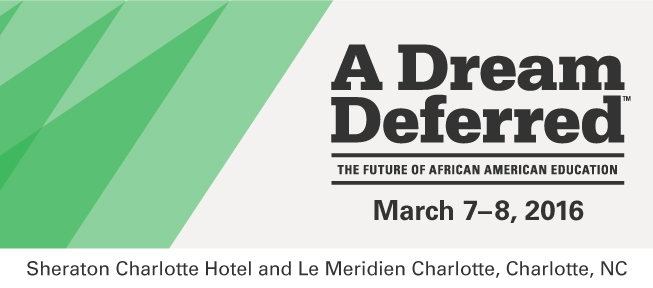 The 12th annual A Dream Deferred conference will be held in Charlotte, N.C., March 7–8, 2016. Attendees will discuss new solutions, share best practices, and collaborate with colleagues to make a difference for African American students.
College Board conferences like A Dream Deferred are a key part of our mission to connect students to college success and opportunity. We depend on you, our members and partners, to help us achieve excellence and equity in education.
A Dream Deferred will be held in conjunction with the Historically Black Colleges and Universities (HBCU) conference, March 7–8, 2016. Learn more about this additional professional development opportunity.
2016 Conference Attendees will:
Form new connections and collaborate with colleagues across the country and across disciplines.
Engage with other education professionals focused on the academic needs and challenges of African American students.
Turn commitment into action.
Receive firsthand insights from successful programs and learn innovative approaches to get results that positively impact African American students.
Inform and engage in the work of the College Board to increase access and opportunity for African American students.
Who Attends A Dream Deferred?
School counselors
College admission and outreach coordinators
K–12 and higher education administrators
Community leaders
Legislators and policymakers
Financial aid administrators
Parent engagement coordinators
Teachers
Join Us for the HBCU Conference

HBCU will be held concurrently with A Dream Deferred, on March 7–8. Look forward to sessions and networking opportunities geared toward professionals at historically black colleges and universities. The HBCU conference is specifically designed for chief academic officers, deans or directors of admission, recruitment or enrollment management, and directors of financial aid.
Visit the HBCU website for more information.